Drug Stability Test Chamber (의약품 안정성 시험 ICH 챔버)
JSDS-Series Temperature and Humidity Drug Stability Chamber designed for Drug Stability Test for pharmaceutical industry meets the requirement of ICH Guideline Q1A (Stability Test)
Specifications
Heating

Forced Air Convection

Cooling

CFC Free Air Cooled Compressor

Humidifier

Water Boiling Humidifier

Temp. Range

+ 10°C ~ 70°C

Accuracy

± 0.3°C at 20.0°C, 60% RH

Uniformity

± 1.0°C at 20.0°C, 60% RH

Temp. Sensor

Class A Pt-100 Ω Sensor

Humidity Range

30 ~ 85% RH

Accuracy

± 3.0 % RH at 20.0°C, 60% RH

Uniformity

± 6.0 % RH at 20.0°C, 60% RH

Humidity Sensor

Electronic Sensor

Illumination

Fluorescent lamp on/off for observation

Basic Controller

JSC-4CP Programmable Controller

    Programmable PID Control

    11 Segment 999 Cycle Repeat

Optional Controller 1

JSC-2500 TFT-LCD Touch Screen (Art no. OEC-006)

    5.7" 640 x 480 pixel TFT-LCD Color Touch Screen

    64 MB Internal Memory for program and data storage

    External SD Memory Card

    120 Patterns 1,200 Segments, 999 hour 59 min 59 sec.

    9 Zone PID Group

    Displays real time trend graph monitoring

    Displays recorded trend graph monitoring

    Easy-to-use Graphic User Interface

    Uploading and downloading data, pattern, parameter setting with PC

    Control and Data Monitoring PC Software

    RS-232C or RS-485 Multi-Drop Communication

Optinal Controller 2 

JSC-950 TFT-LCD Touch Screen (Art no. OEC-007)

    5.6" 640 x 480 pixel TFT-LCD Color Touch Screen

    64 MB Internal Memory for program and data storage

    120 Patterns 1,200 Segments, 999 hour 59 min 59 sec.

    9 Zone PID Group

    Uploading and downloading data, pattern, parameter setting with PC

    Control and Data Monitoring PC Software

    RS-232C or RS-485 Multi-Drop Communication

Safety

Over-Temperature Cut-Off

 

Over Current Cut-Off

 

Low Water Level Cut-Off

Material

Body : Epoxy Powder Coated Steel

 

Chamber : Stainless Steel 304

 

Double Layer Vacuum Glass Observation Window

 

Including PVC Coated Wire Shelf

Electric

220±10% VAC 50/60Hz 1-Phase

Plug Config.

30 AMP or 50AMP
Models
Art No.

JSDS-300C

JSDS-420C

JSDS-960C

Chamber Volume (Capacity)

300 L

432 L

964 L

Dimensions      

Inner

500 x 500 x 1200

600 x 600 x 1200

1200 x 600 x 1200

W x D x H mm  

Outer

690 x 835 x 1985

790 x 935 x 1985

1390 x 935 x 1985

Temperature

Range

+10°C ~ 70°C w/o Humidification

 

Accuracy

± 0.3°C at 20.0°C, 60% RH

 

Uniformity

± 1.0°C at 20.0°C, 60% RH

Humidity

Range

30 ~ 85% RH

 

Accuracy

± 3.0 % RH at 20.0°C 60% RH

 

Uniformity

± 6.0 % RH at 20.0°C 60% RH

Illumination

Type

Fluorescent lamp on/off for observation

 

Lamp

3 x 36W FPL

3 x 36W FPL

4 x 36W FPL

Controller

Programmable PID Control 11 segments 999 cycle repeatable

Sensors

Temp

Class A Pt-100 Ω Sensor

 

Humidity

Electronic Humidity Sensor

Number of shelves/Max.

3 / 35

3 / 35

6 / 35

Heater Capacity

3.1 kW

3.5 kW

6.0 kW

Refrigeration System

CFC-Free Air Cooled Hermetically Sealed Compressor

Electric Requirement

220VAC 50/60Hz 1P

Power Rating

19 Amp

21 Amp

34 Amp

Power Plug

30 AMP

30 AMP

50 AMP
Features
Basic Controller JSC-4CP Programmable Controller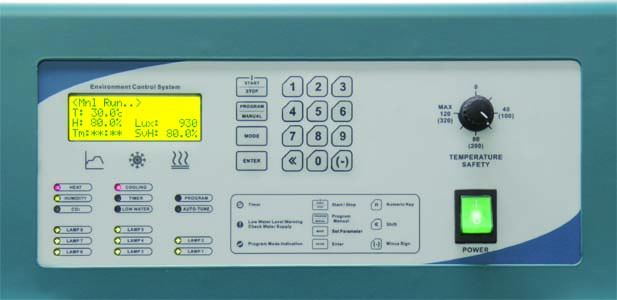 High precision Digital PID Microprocessor controls temperature, humidity and lighting in one integrated unit with easy to use 4-line back-light LCD display interface
Constant temperature, humidity and lighting operation with automatic OFF timer
Programmable operation capability of various climatic conditions up to 11 Segments 999 cycles or unlimited repeating operation of temperature, humidity and lighting with time duration
Calibration and auto-tuning function
Class A Pt-100 Ω temperature sensor
Precision electronic humidity sensor
Automatic defrost cycle 
| | | |
| --- | --- | --- |
| JSC-950 Optional Controller |   | JSC-2500 Optional Controller |
| |   | |
5.6" TFT-LCD

640x480 Touch Screen

64MB internal memory for trend data and parameters storage

 

5.7" TFT-LCD

640x480 Touch Screen

64MB internal memory for trend data and parameters storage

External SD Card memory for easy data transfer

Programming

120 Patterns

1200 Segments

up to 999hour 59min 59sec

9 zone PID group

 

Programming

120 Patterns

1200 Segments

up to 999hour 59min 59sec

9 zone PID group

Data Transfer

Upload and download pattern, parameter, data to PC

Data monitoring PC software

 

Graphic Interface

Easy-to-use graphical interface

Pattern Editing

Saved patterns can be recalled as graphical interface

Easy upload and download parameters and patterns

 

Monitoring

Realtime trend graph

Recorded trend graph

Record data into internal memory or SD card

PC Software

Control and monitoring

RS-232C or RS-485 Multi-Drop communication interface

 

Pattern Editing

Saved patterns can be recalled as graphical interface

Easy upload and download parameters and patterns

 
 
 

Data Transfer

Upload and download pattern, parameter, data to PC

Data monitoring PC software

 
 
 

PC Pattern Editing

Saved patterns can be recalled as graphical interface

Easy upload and download parameters and patterns

 
 
 

PC Software

Control and monitoring

RS-232C or RS-485 Multi-Drop communication interface
Construction
Durable epoxy powder coated metallic casing
Corrosion resistant Stainless Steel 304 chamber
Durable Stainless Steel 304 Sheath Heater and Copper-Aluminum fin evaporator
Removable and height adjustable shelf
Built-in humidifier and automatic water supply
Double layer vacuum tempered safety glass side wall on light bank
Tempered Safety inner glass door
Performance
Forced air circulation of controlled temperature and humidity to achieve excellent thermal uniformity
Durable Stainless Steel 304 Sheath Heater and copper-aluminum finned evaporator
Temperature control within ± 0.1°C resolution
Humidity control within ±1.0% RH resolution
Separate heating and cooling compartment prevents contamination and maintenance free
Cooling system with hermetically sealed compressor
Convenience
Outer door with self adhesive magnetic packing
Inner glass door with air tight gasket for easy observation of sample during experiment.
Removable and height adjustable shelf by 25mm spacing
Easy to access Light Bank System for convenient maintenance
Corrosion resistant Stainless Steel 304 (ASTM 304) chamber
Auto-defrost system, user settable interval and time
Built-in casters for easy transport
Safety
DUAL OVER TEMP. CUT-OFF
    Digital system cut-off heater and AUDIO VISUAL ALARM in case +2°C above set temperature
    Analog system cut-off heater 10% above set temp.
MAX TEMP CUT-OFF heater and AUDIO VISUAL ALARM when +1°C above maximum limit
OVER COOLING. CUT-OFF
    Digital system automatically cut-off compressor in case -3°C below set temperature
SENSOR DISCONNECTION ALARM
LOW WATER LEVEL ALARM AND CUT-OFF
HUMIDIFIER DRY-BURN PROTECTION
OVER CURRENT CUT-OFF : Electric Leakage Breaker
Ordering Information
| | | | | | |
| --- | --- | --- | --- | --- | --- |
| Art No. | Descriptions | Elec. Req. | Capacity | Net Wt. | Ship Wt. |
| JSDS-300C | Drug Stability Chamber | 220 VAC 50/60 Hz | 300 L | 185 kg | 313 kg |
| JSDS-420C | Drug Stability Chamber | 220 VAC 50/60 Hz | 432 L | 220 kg | 368 kg |
| JSDS-960C | Drug Stability Chamber | 220 VAC 50/60 Hz | 964 L | 380 kg | 550 kg |
Factory Built-in Options
| | |
| --- | --- |
| Art No. | Descriptions |
| OEC-006 | JSC-2500 Touch Screen Controller |
| OER-007 | JSC-950 Touch Screen Controller |
| OER-010 | 6-Channel Chart Recorder |
| | |
| --- | --- |
| Art No. | PVC Coated Wire Shelf |
| PHS-C05 | for JSDS-300C       W470 x D480 mm |
| PHS-C13 | for JSDS-420C      W570 x D580 mm |
| PHS-C15 | for JSDS-960C      W570 x D545 mm |
Total Views 3819